New Products

sherwood softwood rustic picnic set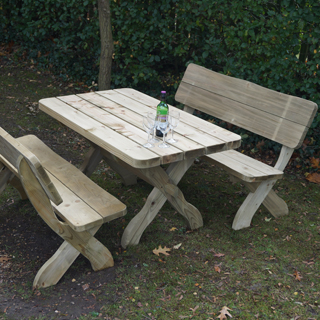 teak picnic table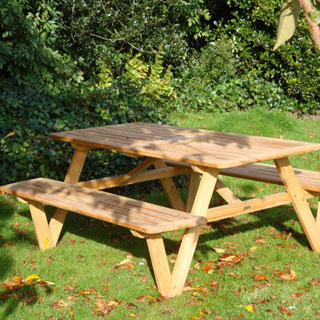 roma cantilever parasol 300cm square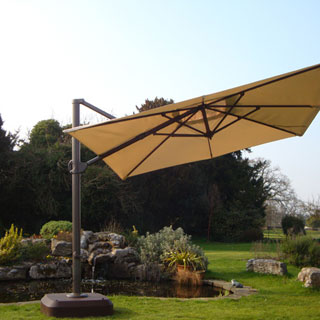 picnic tables

softwood and hardwood
availability
find out more

wheelie bin stores

hide away your unsightly bins
find out more

garden parasols

welcome

We specialise in the supply, delivery and installation of quality picnic tables. We started in the picnic table business in 2003, since 2008 we have been sources and importing quality picnic tables from around the world and selling direct to the end user.

We are a family owned business, we take pride in supplying you good service and a value for money product. Our picnic tables are manufactured in thailand, vietnam and poland.

We have good range of picnic tables available to you, the range has been put together to give you a choice depending use of your picnic table and your budget. We have also put together garden parsols, parasol bases and parasol heaters ideally suited to your chosen picnic table.

The timber used is teak, meranti, pine, european redwood.

Our picnic tables are in two basic styles, the tradional A frame and round styles.

The picnic tables manuafactured in the far east and imported to the UK by container as well as manufactured in Central Europe and transported by road. This way you getting the benefit of economies of scale, a great product at a fantastic price.

If you can receive the picnic tables flat packed we can get picnic tables to you using a next day courier or pallet delivery service. We do offer assembly and installation of you picnic tables, our order book is currently showing a 7-14 day delivery time depending on your location.

Please check out our testimonials and portfolio sections for feedback and ideas.

portfolio

of our picnic table installations
find out more

garden covers

garden cushions

bench anchors

£25 free wine voucher

Trustwave - Payment Card Industry Data Security Standard (PCI DSS)

Buy FSC certified picnic tables - from responsible source.

Best Sellers

sherwood fsc certified picnic table 1400, flat pack delivery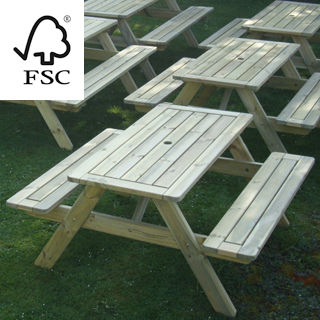 sherwood fsc certified picnic table 1800 set of 5 (flat pack delivery)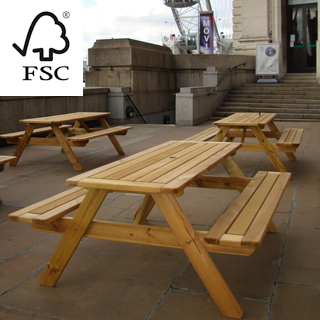 sherwood fsc certified picnic table 1800, flat pack delivery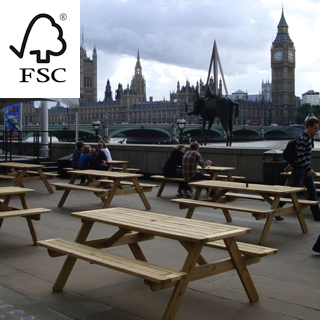 roma cantilever parasol 350cm diameter